Horsham, Sussex
---
Qualifications ARCM, AGSM, LTCL, PGCE, PGCA
Teaches Cello
Locale Horsham, Crawley, Pulborough, Haywards Heath, Dorking, Burgess Hill
Kay is the director of Stringbabies – (Cellobabies, Violinbabies and Violababies).  She teaches the cello and adjudicates at music festivals.  Kay has been teaching under 6's for many years – Stringbabies were the results of that experience.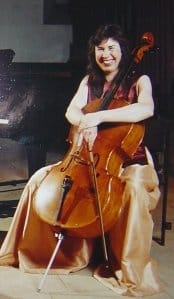 Cellobabies and Kay
I had always thought that a great technical foundation was what cellists needed for relatively trouble-free progression but now realise that the inner musical ear has to be solidly trained too and that this is probably even more important in the initial stages of learning.

My cellobabies have far more musical security than previous beginners I have started, especially in sight reading, rhythmical skills and intonation. I only wish I had developed this system earlier!
My thoughts on teaching music
My aim in teaching music is to lay down the best possible foundations, musically & technically, thus enabling students to thoroughly enjoy their musical journey during their lifetime.
Musical experience
You can find out about Kay's musical career if you follow this link to her biography page.
Comments & recommendations
'Lucy has been playing the cello for 2 years. She started when she was only 4 years old. She quickly learnt to identify the 4 strings using Kay's cello babies method and later progressed to read 1st, 2nd, 3rd and 4th finger notes as well as the different rhythms and music symbols.'

'Lucy sat her first ever music exam [Trinity Guildhall Initial Exam] in June. She is only 6 years old and managed to receive a high distinction.'

'She is progressing at a remarkable rate and enjoys to play in front of others.'

'Her successes is largely due to Kay's patience and excellent teaching. I am sure that her bow grip and general position have been helped by learning at such a young age.'

'We have been delighted with the progress Lucy has made under Kay's professional, cheerful and dynamic tutorship and are convinced that starting at such a young age will enable Lucy to develop into a proficient cellist sooner than if we had delayed her start to a later age.'

Dilys Price (parent)
Lisa started her cellobaby lessons 6 month ago when she was four and half years old. I didn't expect that she would have carried on for so long. We are not a musical family and Lisa isn't particularly interested in music. Its all thanks to Kay who has always been so gentle and encouraging. Lisa is progressing gradually in her own pace. She likes Kay and enjoys playing fun musical games in the cellobaby lessons.

Lisa, at 6, took her Trinity Guildhall Initial Exam and achieved a Merit

Guangli Fordham [parent]
My 4 yr old son, Zevon, has been learning the cello with Kay for a year now and is already putting together his own little compositions and playing basic tunes! He loves his lessons and Kay is a fantastic teacher. I would recommend Kay to anyone who is interested in engaging their children with music and the fun of playing the cello!

Vanessa & Shiraz (parents)

Use the site contact form to get in touch with Kay