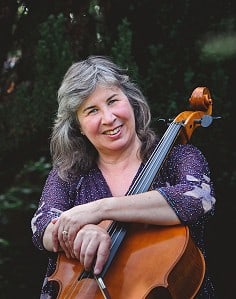 An alumna of the Guildhall School of Music and Drama, Kay has been playing the cello since the age of 12. She gives recitals both as soloist and ensemble player and is a professional cello teacher.
Kay first developed 'Cellobabies' in 2004 and was soon asked by colleagues to produce a version for the violin. When a version for Viola was produced, 'Stringbabies' came into being.
Stringbabies is now delivered in many private practices, schools and music services throughout the UK and also abroad, notably in the USA.
Kay's work has been recognised by award nominations; as finalist in 2013 and 2014 for the Rhinegold Music Teacher Awards for Excellence and also for the BBC Surrey and Sussex Community Heroes awards in 2014.
In addition to training and supporting Stringbabies teachers and producing more Stringbabies and Musicbabies related work, Kay is also an Adjudicator for the British and International Federation of Festivals and a Music Mentor for the National Festival of Music for Youth.
It was apparent from an early stage that the principle of Stringbabies could be adapted to other instruments, so the generic title 'Musicbabies' has been adopted for non strings adaptations. The story is continuing to unfold…